The Ultimate

Freeroam VR platform
for untethered, arenascale gameplay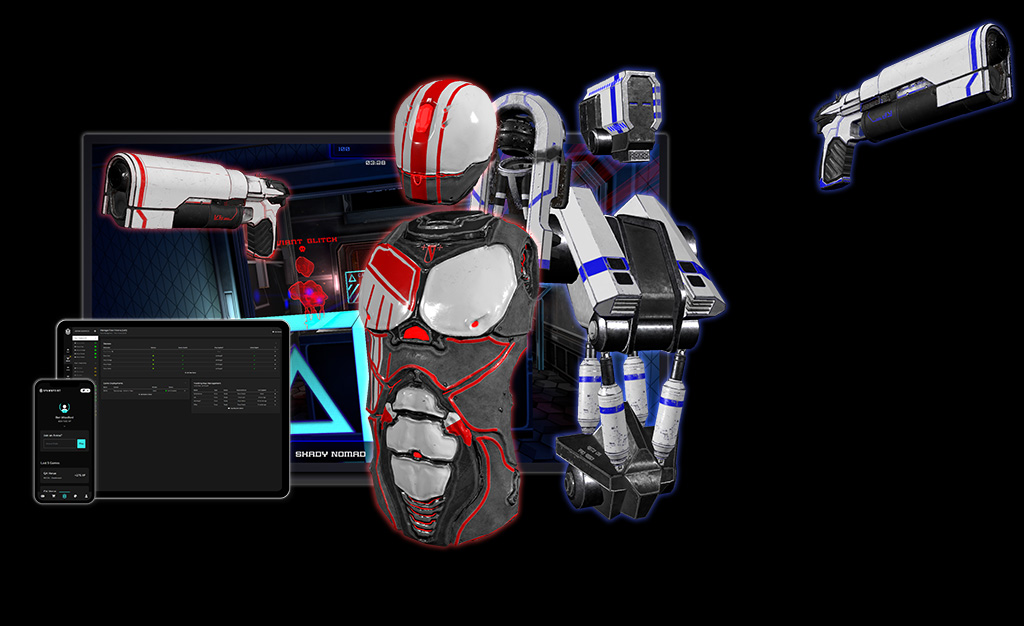 Available Now
Join the next evolution in freeroam VR
Monitor your arenas, manage your headsets and immerse your customers into experiences that are tightly integrated into a global player account system to increase customer retention and repeat play. All the power and features of a high-investment turnkey system without the upfront cost.
You have never seen a VR arena like this.
Start your Free Trial
Platform
Benefits
Spawnpoint does the heavy lifting to keep your arenas running smoothly - check out some of the benefits below
Stay in Control
Manage every Spawnpoint Arena in your venue from your desktop, laptop or tablet using one convenient browser-based interface
No internet? No problem!
Your Spawnpoint Arenas only need to connect to our servers every few days, and all of your operator controls are accessible locally from your network.
Keep an eye on everything
Whether it's low batteries, poor wifi signals or out of date games - you can monitor every aspect of the headsets in your arenas from one location
Over the air updates
No more painstakingly plugging in headsets to update your games, your entire arena can be updated from our control panel in a few clicks
Fair, multi-currency pricing
Pay only for what you use in the currency of your choice - no upfront fees, no unfair credit expiration dates, and pay-per-minute is going nowhere
Keep customers in the game
Spawnpoint offers a robust kiosk system to keep customers from leaving the game - no more confused players, and no more accidental collisions
Quick & Easy

to Setup

It doesn't take much to start a Spawnpoint Arena
VR Headsets
We support the VIVE Focus 3, Meta Quest 2 & Pico 3/4 Pro
Check out our Quickstart Package for a great bundle deal on our recommended headset, the VIVE Focus 3
WIFI Router
An off-the-shelf router is all you need to connect your players together wirelessly for untethered play in your freeroam arena
Gaming PC or Laptop
Spawnpoint runs entirely within your network via a PC or laptop, which runs the game servers and acts as a spectator view for your arena
An open space
Our library supports arenas from 5x5m up to 5x10m, check out the full list of games for a breakdown of each game's size requirements
Our flagship title exclusive to Spawnpoint Arenas...
Battle your friends in the ultimate competitive VR shooter, suitable for group sizes of 2-6.
Don't forget to check out our other upcoming titles, with more details to be revealed in the coming months
View Full Games Library
Don't

take our word for it

Hear what our customers have to say
" Spawnpoint is what all freeroam platforms should aspire to be.

The UI is snappy and responsive, it works consistently, it's straight-forward and easy to learn, and it has every feature that you could possibly need. The game selection is great as well, featuring the best PvP shooters on the market! And if you ever get stuck, the support is second-to-none! "
" Spawnpoint truly impresses with its outstanding management integrations, boasting an exceptionally potent operating toolset which is easily the best in the market. Its stable performance and array of games ensures a consistently enjoyable experience. The games are exceptionally engaging and the art styles incorporated into the platform add a unique and enjoyable aesthetic appeal.

Spawnpoint is the obvious choice for anyone that wants to run the best. "
" Spawnpoint's platform is an absolute game-changer.

It has elevated our virtual reality offerings to new heights. The user-friendly interface, extensive features and high quality games make it the go-to platform for any venue. The support team is incredibly responsive and helpful, ensuring smooth operations at all times. With Spawnpoint, we can give our customers an unreal virtual reality adventure. "
" At Dimension XR, we consider Spawnpoint indispensable.

Its intuitive, flexible interface takes the stress off our operators, allowing us to focus on creating unforgettable experiences for our customers. The steady release of fresh, engaging games keeps our customers hooked and returning for more. Plus, the unwavering, ready-to-assist support provided by the Spawnpoint team is second to none. But the real game-changer is its unrivaled headset management system - an absolute lifesaver in our day-to-day operations. If you're in the VR arcade business and looking to grow, Spawnpoint is the real deal, a true game-changer for the industry. "
" Spawnpoint absolutely rocks. It is easily the best platform for VR arcade operators to use in their business. It's really easy to use even for starting VR operators. I have used 6 different platforms for free roaming standalone content and Spawnpoint is top dog in my business. They have really responsive team that takes feedback on board and are consistently adding incredible new games to their library

If you don't have Spawnpoint in your business, then you are doing VR Arcade ownership wrong. "
Incredible

Value

We only charge for what you use - there's no monthly fee, and no hidden costs
$0 per headset
for a powerful suite of tools, you only pay for the experiences
and
Free Trial Credit
just to get your started
We shoulder the currency exchange risk so you don't have to, with fixed pricing available in USD, GBP and Euro
No upfront fees means no expiration dates on pre-purchased credit - pay for what you use at the end of each calendar month
£100 / €115 / $120 free trial credit just for signing up
Contact us for Enterprise pricing
Full Pricing Information
All prices are exclusive of any applicable VAT or Sales Tax
Ready to take your VR arena to
the next level?
Click the button below to start your free trial with £100 free credit